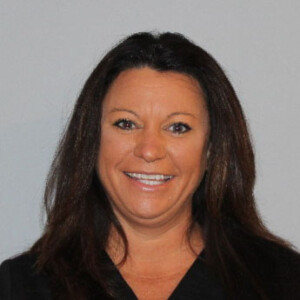 My experience with RMH started when I was 11 years old and my mother worked as the RMH administrative assistant. During her employment at RMH, she became good friends with the Director of Imaging, Terry Aker, and between the two of them, my future was planned. Terry and my mom discussed the growing need for imaging technologists. During the summer of my junior year of high school, I decided to shadow the RMH imaging team. I loved it!
I then applied to the Hancock Regional Hospital School of Radiologic Technology, an extremely competitive hospital-based x-ray program, and to my surprise, I was accepted. I graduated from the certification program and passed my radiology boards in 1995.
In September of 1996, I applied for a Radiologic Technologist position with Terry and his team.
When I accepted the position at RMH, I thought I would take this opportunity and use it as a stepping stone in my career. Working in a small hospital gave me the opportunity to learn every imaging modality that RMH offered. I quickly learned CAT scan and then met the requirements to sit for my mammography boards. In 1998, I passed my boards and became a certified mammographer. After that, I learned Ultrasound, DEXA, and MRI. I thought I had obtained all the additional growth I could get from RMH so I started looking at options outside of RMH.
At that point, the lead mammographer position became available and I decided to hang around a little longer to obtain this additional skill. So, I stepped up to the challenge. Since the mammography department is governed by both the American College of Radiology (ACR) and the Mammography Quality Standards Act (MQSA), I had to ensure that both the mammographers and the equipment met accreditation standards.
This was my first taste of management and showed me what management entailed. Eventually, I had the opportunity and was selected to become the imaging coordinator.
Terry, my mentor, retired in 2016 and I accepted the Director of Imaging position. Shortly after my promotion, I became certified in Bone Densitometry, I spearhead the replacement of most of the imaging equipment, remodeled the Imaging Department, and recruited a new radiologist. Yet, even after becoming the director of imaging the opportunities for growth at RMH are endless.
Since becoming the director, I have completed multiple leadership programs that RMH has to offer, and I have recently obtained my Certified Radiology Administrator (CRA) credentials. RMH provides many growth opportunities for its employees and I am extremely happy that I took advantage of them.
There are many perks to working in a small hospital, but the thing I enjoy the most is the culture. Providing care within the RMH culture allows me to give more of myself and make better connections with patients and employees. The culture at RMH eliminates the feeling of "just being a number" and allows us to have interactions on a more personal level.  Providing care and interactions on a personal level is incredibly rewarding.
RMH is my home, and the patients and employees are an extension of my family. Little did I know that in 1996 my "stepping-stone" position would become my forever career. Working in a small hospital, building relationships with patients and staff, plus an amazing culture is the best, and I wouldn't trade any of it for the world!